New Home Review — Castello at Black Mountain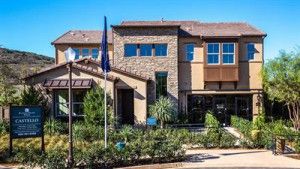 This weekend I toured Castello at Black Mountain Ranch. This is a new development by Cal Atlantic Homes (formerly Standard Pacific) on the north face of Black Mountain just south of Carmel Valley Road and south of the master planned 4S Ranch and Del Sur communities. The development features three floor plans on 37 lots (I expect more lots to be added later, but the land sale to Cal Atlantic has not yet happened). Lots range in size from 8,000 to 18,000sf (14,000 is the largest usable lot).
The floor plans range from 3,677 to 4,210 sf based on model and options (note the square footage online for plan 1 is incorrect). All plans are two story models. Pricing starts in the low $1,000,000's and Mello-Roos is $7,607 – $9,994/yr.
| | | | | |
| --- | --- | --- | --- | --- |
| Model | Beds | Baths | SF | Garage |
| Chaumont (1) | 5 | 4 1/2 | 3,677 – 3,918 | 2-3 Car (Tandem) |
| Barone (2) | 5 | 4 1/2 | 3,752 – 3,967 | 2-3 Car (Tandem) |
| Dolcetto (3) | 5-6 | 4 1/2- 5 1/2 | 3,998 – 4,210 | 2-3 Car (Separate 1 car) |
General Impressions
These homes hit all the main points that I look for in a home for today's buyer: Four to five bedrooms with a bedroom downstairs, great room, optional 3rd car garage, office and a large loft. These are main features I see in demand from buyers in the Poway School District. Additionally, Cal Atlantic has renamed the "Del Sur Room" offered in the Del Sur development the "California Room" and included it in all 3 models. The California Room incorporates a fold-away wall to extend the living space to a covered patio area.
All the homes are proportioned so they appear wider than typical which give the impression from the outside that they are actually smaller than they are. The architects did a good job of avoiding a "boxy" look that sometimes prevails in homes at this size.
That said, the houses seemed very formulistic to me. I think this comes from the fact that the kitchen – great room – California room orientation was almost exactly the same in all 3 models. Plans 1 and 2 in particular follow the same formula: Bedroom immediately upon entering followed by a dining room that can be configured as an office leading to a great room with identical orientation. The main difference in the two plans is the placement of the stairs – off the entry in plan 1 and the great room in plan 2 (having the stairs off the great room in plan 2 does create a 2-story great room which creates the impression of a larger space).
For me, the main difference between plan 1 and 2 is the option to replace the 3rd car garage. In Plan 1 the 3rd car garage can become an extended great room or club room (which opens via a window to an extended California room). In Plan 2, the 3rd car garage may be converted (behind the stairs in the great room) to an office. I'm not knocking either plan, I just think in a development with 3 floor plans, they missed an opportunity to diversify the choices (to be fair, their are 3 new developments in this cluster with Castello being the largest – I will review the others in the coming weeks).
Plan 3 does have a nice option for today's market. The standalone 3rd car garage can be converted to living space and combined with the downstairs bedroom to create a true suite. What in the past you might have thought of as "nanny's quarters" but is now being called a "multi-generational suite"
Overall, a nice development. Large homes on decent sized lots and I'm a huge fan of the California room. I'm not a huge fan of the location for families with young children due to the proximity of Carmel Valley Road, but at close to or over 4,000 sf, I anticipate most buyers will have older children.
Pros
Downstairs bedrooms
California rooms
Large secondary bedrooms
Large lofts
Optional offices (at the expense of formal dining in plans 1 and 2)
Poway Schools (located directly across Carmel Valley Rd from Oak Valley Middle School)
Cons
Not in Del Sur or 4S Ranch
Elementary school is Willow Grove (despite being closer to Stone Ranch in 4S)
Mello-Roos ($7,607 to $9,994/yr)
Location leaves the homes open to road noise from Carmel Valley Rd. Also requires children crossing a busy street to get to the middle school.
Walk-ability for kids is low due to presence of Carmel Valley Rd.
If you would like to arrange a private tour, please give us a text or call (858-688-0189). If you register with me on your first visit, I will provide you a discount on the sale of your home or help with some of your options.