Patina Homes For Sale~4S Ranch Real Estate
Located in Bernardo Springs, just east of 4S Ranch, Patina offers many homes with great views. Additionally, since Bernardo Springs was built prior to 4S Ranch being developed, the Mello-Roos are lower and expire sooner.
Plan 1 is a single story (the only one in Bernardo Springs) 2,713sf home. It has 3 bedrooms plus a den (may be converted to a 4th bedroom).
Plan 2 has 4 bedrooms (downstairs office can be converted to a bedroom) and 3,173sf of living space. The master bedroom has a retreat that is unique in that the master bath is between the bedroom and the retreat. The standard plan has a 3 car garage. Eliminating the 3rd car garage takes the size up to 3,316sf (sometimes listed up to 3,400sf) and adds either an office or bedroom downstairs.
Plan 3 is 3,344 sf (sometimes listed as 3,372 or 3,383sf with a 3 car garage. The plan is set up with a downstairs option for a bedroom, office, or library. Upstairs are 3 bedrooms with a loft (the loft is enclosed and converted to an additional bedroom in about ½ of the plans. The plan has a dynamic living room as the staircase is free standing and curves as it rises to an interior balcony/hallway that rings the living room and provides access to the bedrooms upstairs. Eliminating the 3rd car garage to add either a bedroom or an office takes the square footage up to 3,580.
Plan 4 offers a minimum of 4 bedrooms plus a loft and office, but can be configured with up to 2 additional bedrooms. It is 3,629sf with a 3 car garage. Eliminating the 3rd car garage adds an office/bedroom and takes the square footage up to about 3,810.
Patina Homes Floor Plans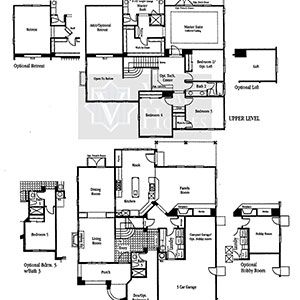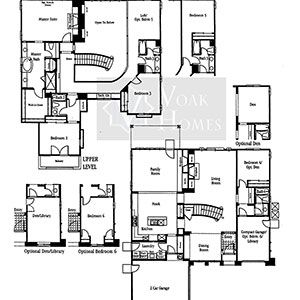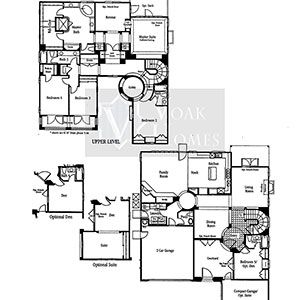 We're here to help!
Give us your name & contact information below along with any questions or comments and we'll get right back to you.