Cedar Creek Homes For Sale~4S Ranch Real Estate
The first development in 4S Ranch to be occupied, Cedar Creek can is located just west of the smaller 4S Ranch shopping center and south of Camino del Norte. The three floor plans are distinctive in that the driveways run the length of the house and the garage is in the rear, but faces forward. This provides a larger than normal driveway for children to play on.
The homes are on Prairie Springs and Prairie Fawn although a couple have Cimarron Crest as an address because of driveway location. The even number homes on Prairie Fawn Dr. have views, as do the homes on Prairie Fawn Ct.
The lots are narrow with the minimum lot size being 42×100 (4200 sf).
The floor plans all have 3 bedrooms upstairs and start at 2,166 sf for Plan 1. Plan 2 is 2,344 sf and Plan 2 adds a bedroom or office downstairs and is 2,690 sf. Each plan has the option of a work room behind the garage. This room will add about 200 sf to the home, but does not have plumbing nor heat/air. About 20% of the homes have this extra room.
Note also that the builder incorrectly recorded many of the homes as the wrong floor plan, so square footages will not match what the County has on record.
Cedar Creek Homes Floor Plans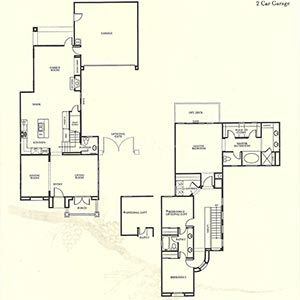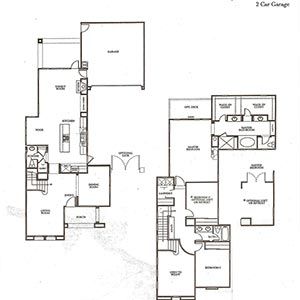 We're here to help!
Give us your name & contact information below along with any questions or comments and we'll get right back to you.