Cambridge Homes For Sale~4s Ranch Real Estate
Cambridge, by Fieldstone Homes, is located in the southeast corner of 4S Ranch, in between Terreno and Avery Lane. Homes on Cayenne Creek Place (double cul-d-sac) with even numbers have sunset views to the west over Dove Canyon Rd. Floor plans range from 2824 sf with 3 bedrooms up to 3,652 sf with 6 bedrooms.
Plan 1 is 2,824 sf and has either 3 bedrooms and a loft or 4 bedrooms; all upstairs. It is the smallest available floor plan in the southeast section of 4S Ranch. The home has a 3 car garage, but several homes took the option of a super family room which adds about 180 sf to the home while eliminating the 3rd car garage.
Plan 2 is 3,207 sf and is either a 4 or 5 bedroom home (although one owner did remove a wall to make a larger bedroom and loft, leaving him 3 beds. This home also has a 3 car garage. The 4 bedroom version will have an upstairs loft.
Plan 3 is 3,430 sf and offers 4 or 5 bedrooms, all upstairs. The 4 bedroom configuration also has a loft. There is an option on this home for an additional downstairs bedroom that increases the sf of the home by eliminating the garage. One thing to be cautious of in this floor plan is that the 5 bedroom option at 3,430 sf and the 6 bedroom option at 3,650sf have 4 upstairs bedrooms sharing 1 bathroom.
Cambridge Homes Floor Plans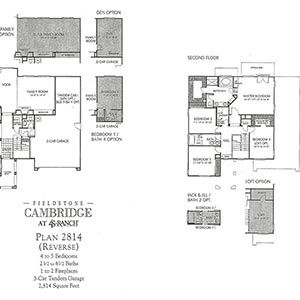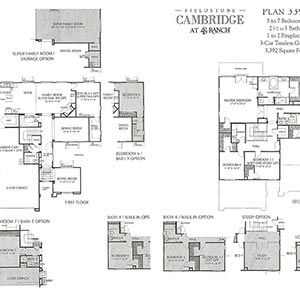 We're here to help!
Give us your name & contact information below along with any questions or comments and we'll get right back to you.